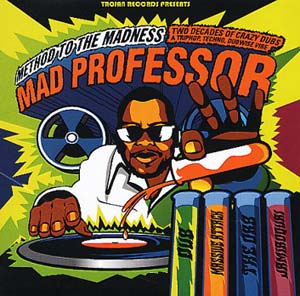 Mad Professor – Method to the Madness (Trojan double CD, 2005)
"Two Decades of Crazy Dubs: A Trip Hop, Techno, Dubwize Vibe"
Mad Prof is well overdue for a decent retrospective and this one goes some way to covering the vast amount of his output since setting up in 1979. Much of the material here is culled from early Ariwa 12″ which now go for a bomb on ebay. Indeed, my main reason for buying it was to get hold of a copy of Aisha's "The Creator" – a spell-bindingly great female roots vocal which was the origin of the "ah wah ooh wah ooh wah" sample in The Orb's "Blue Room" track.
In fact it is the female vocals on here which are the real surprise – top notch stuff which is all to easily overlooked in the scramble for better known bloke-tracks. Sandra Cross' "Country Living" includes some wonderful soaring double-tracked vocals about getting away from London. Ranking Ann's "Feminine Gender" ponders the merits of being thought of as a feminist and fits right in with the UK fast deejay stuff on Lyric Maker. Queen Omega's "Wicked Man" is a powerful roots denouncement. And Kofi is still in love with a dreadlocks after all these years, with Macka B cheering her on…
Instrumentals and dub cuts are well represented. Kunte Kinte is well known to junglists and dub heads alike. The version here will satisfy you thoroughly unless you are a proud owner of the original dubplate. It gets licked over later on by none other than Horace Andy. One a more up to date tip, 50pence dub is culled from the Crazy Caribs album and takes 50cent to the beach with some steel pan sounds.
Other JA artists include Johnny Clarke (whose "Nuclear Weapon" is also hugely sought after – and rightly so), Earl 16 and U Roy.
The 2nd disc includes a number of Mad Professsor's remixes and is, I have to say, a mixed bag (ho ho). For example I was suprisingly disappointed by his version of The Orb's "Towers of Dub". Similarly, remixes of Brilliant and Jamiroquai didn't do that much for me but perhaps the constraints of the original combined with dealing with major record labels meant that nobody was able to do their best.
Having said that, the mixes for Perry Farrell, Young Gods and Massive Attack are all amazing and bear repeated listens to get the best out of them.
Farrell's "King Z" features the piano of Lonnie Jordan in the foreground and is a really elegant, gentle piece. The dub version of Young Gods' "Kissing The Sun" has a wonderful hallucinongenic, waking dream quality to it. And Mad Prof makes Massive Attack become themselves to an even greater degree, if that makes sense.
Finally, people always seem to be slagging off Mad Professor's collaborations with Lee Perry, but "Mad Man Dubwise" on the 2nd disc is a great melodica-driven excursion so some reappraisal is clearly required on that count.
This compilation manages to do what it says on the tin – all bases are adequately covered and short of someone coming up with several seperate 2 disc sets for dub, lovers, remixes, roots etc of Mad Professor material this is your best introduction. Get it and then seek further…
Various Artists – Night of the Living Dread (Sonarcotik / Marseille City Pressure CD, 2005)
"15 tracks of mutant dubs & digital lo-fi from Marseille City Pressure"
Never heard of this outfit before and was pleasantly surprised to be sent a review copy. This is a various artists compilation which includes some real treats. The cover imagery and some of the tunes are full of zombie/horror imagery which possibly originates with the more "dread" end of jungle. I would guess that a reference point would be the Crooklyn Dub Consortium compilations on Wordsound, but this is very much its own beast.
The actual sounds move between reggae, uk dub, and more downtempo stylings. There is a darkness here which is almost as if dub's sorcery has invoked some serious duppy business rather than opening up the "elect of god and the light of the world". An all too common escape route for those not wanting to be accused of fake rasterism, but when it works, it's fine by me.
"Meditation Urbaine" by Izmo (featuring Richie) – has some nice traditional percussion and is almost like a classic UK Dub cut from the mid-90s. There's some excellent twiddly touches and a bit of flute which raise this way above the level of the ordinary. Nice!
"Dubblegum" by Yobz kicks off with a long intro of synth washes includes before bringing in a rasta sample about da 'erb. The beats are nice and minimal, sort of a laidback trip hoppy stuff but still sounding fresh.
"Murder Mile" by Troma may or may not be a tribute to Clapton, written by a cultish director of schlock monster movies. It includes a great sound effect which reminds me of all the telephones going off at the same time on Dreams Less Sweet, only more discordant. Very effective when combined with the abstract beats and alien insectoid scampering noises.
"Me & The Devil" by Onkle Akai (these boys are obsessed with their toys!) is nice "downtempo" (as in the genre) filmic businsess, heavy on the dialogue samples from some horror movie. It reminded me to dig out Marc Dauncey's wicked Darkest Before Dawn mix.
"Decoction" by Rzo is about as dark as it gets – full of evil buzzing atmospherics.
In short, a great start. My only criticism is that some of the other tracks are a bit too "tracky", with unvaried looping stuff losing my interest after a few bars.
Check the mainly not working http://sonarcotik.free.fr/ for more info. Or see this page on Versionist for some mp3s.
Dub Syndicate – Research & Development (On-U Sound CD, 1996)
"A Selection of Dub Syndicate Remixes
A retrospective of Dub Syndicate tracks – remixed by various UK Dub producers. An absolutely excellent idea and one that has completely paid off. This album completely passed me by when it came out 9 years ago and I couldn't quite believe it existed when I saw it in the Rough Guide to Reggae.
"Dubadisababa (Soundclash remix)" kicks off with Big Ben chiming and has some nice gentle griding sounds running through it with tablas from Goldfinger of (Detri/Funda)mental. A great looooong groove for openers.
I've had Iration Steppas take on "2001 Love" and Ruts DC's "Ezy Take it Ezy" on 12″ for ages and they are bonafide classics. The former got some serious outings during DJ sets for the Association of Autonomous Astronauts and the latter was on my Shake the Foundations volume 1 mix. Ruff!
DJ Scruff I assume is now Mr Scruff. His take on "Mafia" is one of the best things on here (and that is saying something because there isn't a bad tune) and is approximately 650 million times better than the absolute shite which constitutes his Trouser Jazz album. Bim Sherman's vocals and a great melancholic refrain make this a hugely satisfying.
"Bedward" is probably one of the most well known Dub Syndicate tunes because of its inclusion on the classic Pay It All Back sampler LP. Zion Train do a good job beefing the track up and adding a few dubby touches, but are ultimately perhaps a bit too respectful.
The Disciples were on fire around 1996 with releases on their own Boomshakalacka label and Russ D goes to town with "Jungle", adding some bonkers tweaky acid business.
Dougie Wardrop aka Conscious Sounds aka Centry can always be relied on to come up with the goods and his take on "2003 Struggle" is all minor key synths, steppers and horns – exactly the way some of us like it.
"Ravi Shankar" was tailor-made for a re-rub by Rootsman and he doesn't disappoint. An absolutely solid foundation leaves room for all sorts of stuff going on at the top end to wig your head out. This is huge.
This LP captures a moment when the UK Dub scene was producing a load of really exciting records that managed to combine reggae and electronics in a distinct, dark edgy way. Much of this has subsequently solidified into a series of cliches, but most of these producers have avoided this by either moving into live instrumentation or just being one step ahead of the competition in terms of imagination. Needless to say this style still does the business for me, especially at high volumes.
All in all, an outstanding project which should be repeated for more recent On-U material.